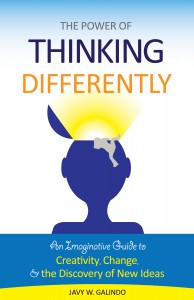 Hyena Press is proud to present The Power of Thinking Differently: an imaginative guide to creativity, change, and the discovery of new ideas, written by Javy W. Galindo
"Galindo clearly explains the roots of creativity in the brain and how to overcome one's own blockages and obstacles." – Susan Reimers from BestSellersWorld.com
Are you looking for new perspectives, creative ideas, or a deeper sense of meaning? Discover an enchanted new world of creative possibilities by harnessing The Power of Thinking Differently. Learn how to tap into your inherent creativity in order to escape groupthink or to find inspiration for your own creative expression.
Drawing from the latest research on the psychology of creativity, The Power of Thinking Differently uses science, humor, and easy to follow language to provide a clear map of the creative process. This creativity manual explores creative thinking through psychology and neuroscience while also exercising the imagination through allegory, myth, puzzles, and jokes. All readers will be engaged as the book looks at the creative process found in art, science, business, spiritual traditions, daily life, and more.

Checkout the author's website JavyGalindo.com for more information.
Look Inside | Read Editorial Reviews
Available for Purchase
Amazon | Barnes & Noble | Google eBook | Buy in Bulk
Retailer Pricing
Are you a bookstore or other retailer? See the book for yourself with our virtual preview video above. Contact Us now to verify your physical storefront and receive discounted paperback prices (no minimum quantity required).
Book Details & Formats
Publication Date: Dec 25 2011
ISBN/EAN13: 0984223932 / 9780984223930
Page Count: 250
Binding Type: US Trade Paper
Trim Size: 5.5″ x 8.5″
Language: English
Color: Black and White
Related Categories: Self-Help / Creativity, Psychology & Counseling / Neuropsychology
Format: Kindle Edition
File Size: 691 KB
Print Length: 250 pages
Publication Date: January 15, 2010
Sold by: Amazon Digital Services
Language: English
ASIN: B0034KYUVI
Category: Self-Help / Creativity, Psychology & Counseling / Neuropsychology
Publication Date: Dec 1 2009
ISBN/EAN13: 0984223908 / 978-0984223909
Page Count: 252
Binding Type: Hard Cover
Trim Size: 5.5″ x 8.5″
Language: English
Color: Black and White
Related Categories: Self-Help / Creativity, Psychology & Counseling / Neuropsychology
Publication Date: Jun 12 2009
ISBN/EAN13: 1442190507 / 9781442190504
Page Count: 250
Binding Type: US Trade Paper
Trim Size: 5.5″ x 8.5″
Language: English
Color: Black and White
Related Categories: Self-Help / Creativity, Psychology & Counseling / Neuropsychology