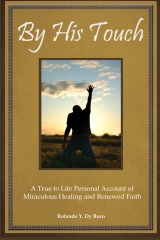 Hyena Press is proud to present By His Touch: A True to Life Personal Account of Miraculous Healing and Renewed Faith, written by Rolando Y. Dy Buco.
"Through this book, the author has shared with us the remarkable experience of his faith." – Father Glenn Naguit, Parochial Vicar, St. Francis of Assisi Parish, Concord, California.
In 1991, in a remote Philippine town, a young 15 year old girl was suddenly the victim of an unusual medical condition—her brain began to be painfully compressed by its own life supporting cerebral fluids. The girl's father, Rolando, was helpless and his lack of faith provided little cause for hope.
Then, on November 10, 1991, a miracle began that forever changed Rolando, his daughter, and their relationship with God.
By His Touch is Rolando's personal diary set within the exotic island of Panay in central Philippines. Within its pages he shares the day by day true life reflections chronicling the horror of his daughter's initial diagnosis, her eventual awe-inspiring healing, her communications with the Blessed Virgin Mary, and his own spiritual renewal that occurred as a result over the years that followed.
Look Inside | Read Amazon Reviews
Now Available for Purchase
Amazon | Barnes & Noble |  Buy in Bulk 
Retailer Pricing
Are you a bookstore or other retailer? See the book for yourself with our virtual preview video (coming soon). Contact Us now to verify your physical storefront and receive discounted paperback prices (no minimum quantity required).
Book Details
Publication Date: Sep 14 2011
ISBN/EAN13: 0984223924 / 9780984223923
Page Count: 132
Binding Type: US Trade Paper
Trim Size: 6″ x 9″
Language: English
Color: Black and White
Related Categories: Faith/Religion/Inspirational