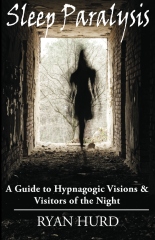 Hyena Press is proud to present Sleep Paralysis: A Guide to Hypnagogic Visions and Visitors of the Night, written by Ryan Hurd.
"Ryan Hurd, a brilliant researcher and emerging leader in the field of dream studies, offers a brand new perspective on sleep paralysis that provides both practical help and inspirational guidance." – Kelly Bulkeley, Ph.D., author of Dreaming in the World's Religion
Experienced by millions as supernatural assault, sleep paralysis (SP) often includes realistic, and often frightening, hallucinations that are projected into the waking world. In Sleep Paralysis, these night visitations of ghosts, vampires-and even aliens-are honored afresh from the perspective of contemporary dream science. Although they can be terrifying, these visions can also be a reliable portal to other extraordinary states, including lucid dreaming, out-of-body experiences, and guided journeys to realms beyond our imagination.
Sleep paralysis is the only print book that discusses sleep paralysis and its related dream visions from a how-to perspective — a book for those who want to manage their SP or engage more confidently with this ancient lucid dreaming technique.
For more information, visit the author's official website at DreamStudies.org.
Look Inside | Read Amazon Reviews
Available for Purchase
Buy now from Amazon | Barnes & Noble |  Google eBook |  Buy in Bulk
Retailer Pricing
Are you a bookstore or other retailer? See the book for yourself with our virtual preview video above. Contact Us now to verify your physical storefront and receive discounted paperback prices (no minimum quantity required).
Book Details
Format: Kindle Edition
File Size: 358 KB
Print Length: 132 pages
Publication Date: April 19, 2011
Sold by: Amazon Digital Services
Language: English
ASIN: B004XD9HOA
Related Categories: Body, Mind & Spirit / Dreams
Publication Date: Sep 17 2010
ISBN/EAN13: 0984223916 / 9780984223916
Page Count: 132
Binding Type: US Trade Paper
Trim Size: 5.5″ x 8.5″
Language: English
Color: Black and White
Related Categories: Body, Mind & Spirit / Dreams